Stourbridge Birthday Parties
Birthday Parties
Birthday Parties In Stourbridge Are Perfect For Any Child!
Are you stuck for ideas on where to hold a birthday part for your child? Everyone doing the same old thing? Then how about something that's new, and that your kids are going to love?
Introducing The Academy Martial Arts Storm Wars Birthday Party!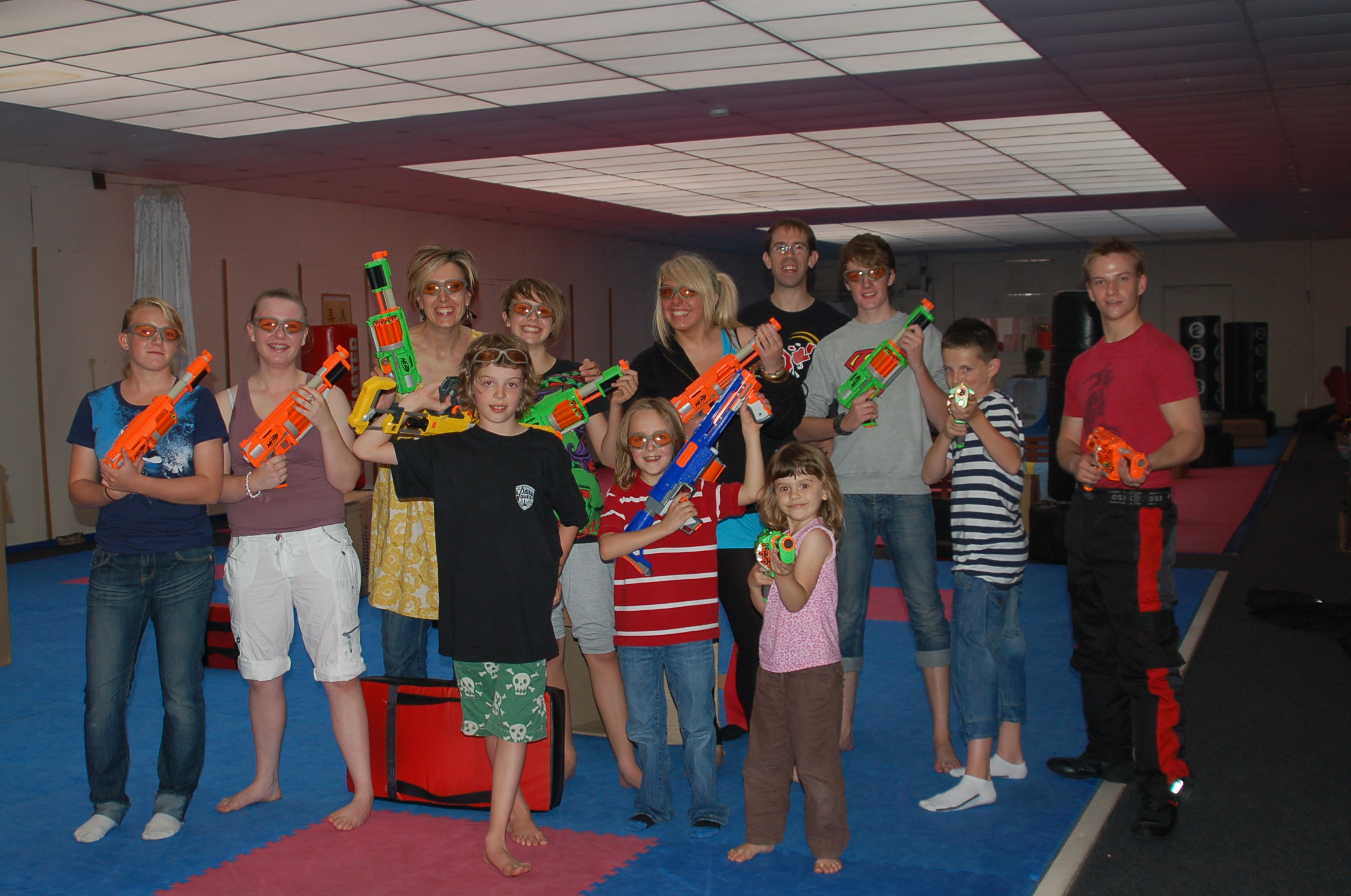 Kids love Nerf, and what better venue than a fully matted, 4,000 sq ft arena to play in. After the group is split into equal numbers, each team has to build their own base before the action commences.
Different games are available such as:
Team Death Match
Protect The VIP
Medic
Storm the Base and
Last Man Standing
Not only will your child build qualities such as leadership, teamwork and honesty but they will have an absolute blast in doing so!
We have 2 packages on offer which allow you to sit back, relax and enjoy seeing your child have the best party ever. We will even serve your adult guests complimentary tea and coffee whilst you watch the action!
Parties are held on Saturday afternoons (other days and times may be available - please contact us to enquire) and guests should be 5 years and upwards to play. You can bring your own food with you as we allocate time for the children to eat and bring out the birthday cake.
For more information, or to book your child's party, please contact us on 01384 896 999 or fill out the form on the side of this page.
Package 1
For Up to 10 children
1 1/2 hours of Nerf Wars themed Birthday fun
Invitations
Paper goods (plates + napkins)
Party Bags for all attendees
Price £100
Each additional child (over 10) £10
Package 2
For up to 10 children
1 1/2 hours of Nerf Wars themed Birthday fun
Personalised Invitations
Paper goods (plates and napkins)
Deluxe Party Bags For All Attendees
Drinks for Children
Setting up of room with balloons and banners
Our Staff Cleans up
Price £125
Each additional child (over 10) £12.50
REQUEST INFORMATIONS
Training Centre Located at Unit 1, Stambermill Works, Stourbridge, United Kingdom DY9 7AR
googlec569e23724533391.html